Exhibitor
National Development Agency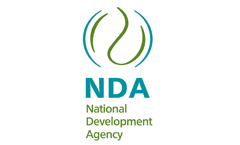 The National Development Agency is an agency of government under the national Department of Social Development. It is tasked with the responsibility of contributing towards the eradication of poverty in South Africa and its causes. The NDA is a public entity, listed under schedule 3A of the Public Finance Management Act (PFMA), Act 1 of 1999. It was established by the National Development Agency Act, Act 108 of 1998, as amended, and reports to the Parliament of the Republic of South Africa through the Minister of Social Development.
In terms of the NDA Act, the primary objective of the NDA is to contribute towards the eradication of poverty and its causes by granting funds to CSOs for the purposes of:
(a) Carrying out projects or programmes aimed at meeting the development needs of poor communities; and
(b) Strengthening the institutional capacity of other CSOs involved in direct service provision to poor communities.
The secondary objects of the NDA in terms of the Act are:
(a) To promote-
(i) Consultation, dialogue and sharing of development experience between CSOs and relevant organs of State; and
(ii) Debate on development policy
(b) To undertake research and publication aimed at providing the basis for development policy.
Website: http://www.nda.org.za/home
« Go Back