Speaker/Committee
Shadrack Moephuli, Agricultural Research Council, South Africa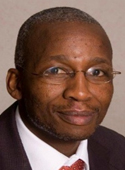 Dr. Moephuli has been President and Chief Executive Officer of the Agricultural Research Council (ARC), South Africa, since 2006. Prior to joining the ARC, he served in the Department of Agriculture of South Africa, first as Director Genetic Resources from 1999-2003 and later as Chief Director Agricultural Production from 2003-2006. His responsibilities in the Department included developing and implementing policies and strategies for agricultural production. He has also represented South Africa at the United Nations Food and Agriculture Organization (FAO) and at many other event.

He has extensive experience on policy and legal aspects of biotechnology and biosafety having served on the SADC Advisory Committee on Biotechnology and Biosafety and chaired the Executive Council of the Genetically Modified Organisms Act, 1997, the highest decision making body on genetically modified organisms in South Africa. He was instrumental in development of South Africa's National Agricultural Biotechnology Strategy and has represented his country at several international negotiations on biosafety and biodiversity.

Prior to joining government, Dr. Moephuli was a biochemistry lecturer at the University of the Witwatersrand, Johannesburg, South Africa. He is currently serving as a board member of the National Advisory Council on Innovation (NACI) and the Academy of Science of South Africa Council. Previously he served as a board member on the CGIAR Genetic Resources Policy Committee, chaired the Board of GALVmed, and was a member of several national and international panels including the Institutional Review Panel of the African Agricultural Technology Foundation (AATF) in 2014.

Dr. Moephuli obtained his bachelor's, master's and doctoral degrees from the University of Connecticut.   
« Go Back