Committee/Speaker
Wanjiru Kamau-Rutenberg, AWARD, Kenya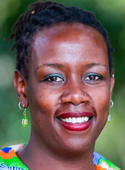 Dr. Kamau-Rutenberg is the Director of African Women in Agricultural Research and Development (AWARD). Through its investments in Africa's leading women agricultural scientists, AWARD serves as a catalyst for innovations contributing to the prosperity and wellbeing of African smallholder farmers.
Dr. Kamau-Rutenberg has received widespread recognition for her work investing in women, including being honored as a White House Champion of Change, named one of the 100 Most Influential Africans by New African magazine, recognized as a Ford Foundation Champion of Democracy, and named one of Kenya's Top 40 Women Under Age 40 among others.
Born in Kenya, Kamau-Rutenberg holds a PhD and a Master's degree in Political Science from the University of Minnesota, and a Bachelor of Arts degree in Politics from Whitman College in Washington, U.S.A.
« Go Back