Silver Sponsor
Nestlé South Africa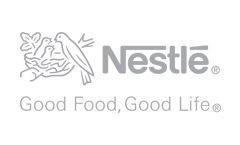 Nestlé South Africa is a wholly owned subsidiary of Nestlé Switzerland, which was founded in 1866. The first Nestlé products arrived in South Africa during the 1870s, and the company's presence in South Africa was formally entrenched on 7 July 1916 when we formally registered as a company. In order to meet the demands of a growing country, local production started in 1927. Nestlé ZAR also services neighbouring countries – Lesotho, Swaziland, Botswana, Namibia and Mozambique.
Inspired by the scientific breakthrough of our founder, Henri Nestlé, and driven by our purpose of enhancing quality of life and contributing to a healthier future, we are guided by our values that are rooted in respect for:
individuals and families - we offer products and services that enable healthier and happier lives.
our communities - we help develop thriving and resilient communities and support better livelihoods for those we live and work with.
the planet - we shape sustainable consumption and steward resources for future generations.
This is how we contribute to society while ensuring the long term success or our company. We call this Creating Shared Value, and we embed it in everything we do.

Visit website: www.nestle.co.za
« Go Back