Programme Committee
Moses Osiru, RUFORUM, Uganda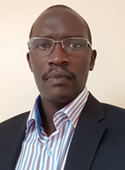 Moses Osiru is the Deputy Executive Secretary at RUFORUM Secretariat. He provides oversight to implementation of RUFORUM Secretariat programs. He holds a Ph.D in Agriculture (Plant Pathology) and MSc (Plant Breeding/ Pathology) from Makerere University. Dr. Osiru has over 15 years' experience in the agricultural and higher education sectors, including seven years within the Consultative Group on International Agricultural Research (CGIAR). As Regional Pathologist with ICRISAT, he supported small holder farmers to improve groundnut production and marketing, including through mitigating aflatoxin contamination in groundnut in West Africa (based in Bamako, Mali) and in Eastern and Southern Africa (based in Lilongwe, Malawi). Dr. Osiru also led the development of ECOWAS's Strategy and Action Plan for the Control of aflatoxins in West and Central Africa and a needs assessment for African agricultural research and training institutions to enhance collaboration with Brazil commissioned by the Bill and Melinda Gates Foundation.
He currently serves various boards including the Board of the African Crop Science Society, the International Network for Higher Education in Africa (INHEA) , the Steering Committee of Global Confederation of Higher Education Associations (GCHERA); SIDA funded Agriculture for Food Security 2030 Initiative Project (AgriFose) and the Journal of Phytology.
Osiru has managed various projects, including leadership in USAID, MasterCard Foundation, European Commission (EC) and Bill and Melinda Gates Foundation multi-million dollar funded research projects. He would like to see a transformation in the quality of the African higher agricultural education (HAE) sector and increased institutional engagement of universities in agricultural transformation. A key outcome of these efforts should be enhanced quality assurance of the sector in Africa, and related public and private funding to enhance relevance of university training to development needs.
« Go Back